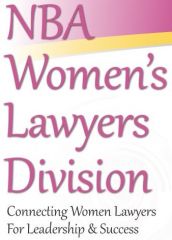 Rosalyn Henderson, Esq.
Representative, District 31
South Carolina Legislature
Washington, Dis, Unites States
Professional Background
The Women Lawyers Division (WLD) of the National Bar Association was established in 1972 as a vehicle for women in the practice of law to address the issues and problems that particularly affect, interest, and concern African American women.
Through the WLD, women have made a significant impact on the goals and directions of the NBA by participating at all levels of the organization. The WLD has achieved its goal of adding positive direction to the NBA by "taking a seat at its table" and establishing a new dimension of sensitivity of the NBA as it addresses legal issues affecting women, children, the family, and the African American community as a whole. In its sponsorship of seminars, breakfasts and other forums, the WLD has concentrated on issues of specific interest and impact on women, and as a result, brought these issues to the forefront of the NBA's conscience.
Connect with Rosalyn: