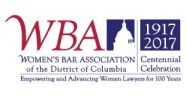 Sonia Murphy
President/Counsel White & Case LLP
Women's Bar Association, District of Columbia
Washington, Dis, Unites States
Professional Background
About WBA
Founded in 1917, the Women's Bar Association is one of the oldest and largest voluntary bar associations in metropolitan Washington, DC. Today, as in 1917, we continue to pursue our mission of:
Maintaining the honor and integrity of the profession; promoting the administration of justice; advancing and protecting the interests of women lawyers; promoting their mutual improvement; and encouraging a spirit of friendship among our members.
For a list of upcoming events, click here.
For more information about the WBA including membership questions, sponsorship opportunities, and more ways to get involved, contact the WBA office at 202-639-8880 or email admin@wbadc.org.
Connect with Sonia:
Description
What an honor it is to serve as your WBA President for the 2016-2017 bar year. As we stand on the cusp of the Association's 100th birthday – our Centennial Celebration - I look forward to leading the Association onward, as we "look back, and move forward." The Women's Bar Association of the District of Columbia has been fighting for equality, advancement, and social justice for almost 100 years. It is indeed important, that we reflect on the great work we've done over the past century, and honor the women who came before us and upon whose shoulders we stand today. Let us not be remiss: the work that we do is still vital today, and although we're approaching a wonderful milestone, it's crucial that we continue to move forward, and do the work that's made us great and which our members expect.